Report shows the same set of students scored good grades in classes VI-VII
As many as 43 per cent of Class IX students studying in Delhi government schools were not promoted to Class X in the 2016-17 academic year, a white paper on the state of public school education has revealed. Released by the Praja Foundation, the white paper also shows that the same set of students scored good grades under the Comprehensive Continuous Evaluation (CCE) system when they were in classes VI-VIII.
The section on CCE grades shows that 66.6 per cent of the Class VIII students from government schools scored between grades A and C. According to the foundation, the disparity arises from the fact that CCE is a self-evaluating process and does not yield results.
"The government keeps talking about the increase in pass percentage in Class X. But we need to also ask them about this falling number. The government needs to acknowledge these issues to bring about any change or improvement," Nitai Mehta, managing trustee, Praja Foundation, said.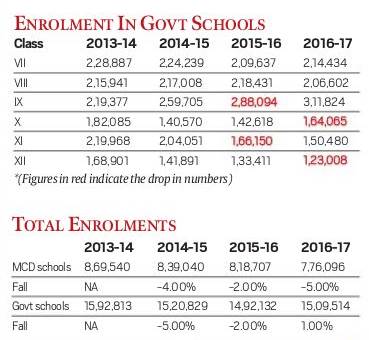 Anjali Srivastava, assistant manager at the foundation, said: "In the report, we have recommended that there should be independent (third party) monitoring and reporting of quality of teachers, schools and learning outcomes." The report also shows that CCE grades in MCD schools were not very impressive in 2016-17 — 65.4 per cent of students scored between grade C and E.
Municipal schools are from classes I to V, after which students move to government schools. The report looked at a total of 1,017 government schools and 1,664 MCD schools. The data has been collated through RTIs and government reports. It has also used CCE and learning outcomes from Shaala Siddhi, designed by the National University of Educational Planning and Administration (NEUPA) in 2015. The report also highlights problems in senior secondary classes, with 26 per cent of Class XI students (2015-16) not being promoted to Class XII.
It also addresses the quality of teachers in municipal and government schools. On an average, 55 per cent MCD school teachers and 63 per cent government school teachers have medium-level of teaching. They were evaluated on parameters such as understanding of learners, subject and pedagogical knowledge, learners' assessment and others.
The report also showed a fall in enrolment of students in schools run by the MCDs and the government. From 2015-16 to 2016-17, total enrolment fell by 5 per cent in MCD schools while it fell by 1 per cent in government schools. It also addressed the dropout rate in government schools.